Expert Bliss Walk-In Tub Installation in Huber Heights, OH
Imagine soaking yourself in a Walk-in Tub. Nothing can be compared to the luxurious and sophisticated experience you can have in your home with one of our walk-in tubs that can meet everyone's needs. The kind of bathing experience that comes with Bliss Tub is incomparable, and truly enhances your quality of life and keeps you self-reliant. Homeowners can choose to build their tub in an open and spacious place; otherwise, they can build on a smaller area. Bliss tub sizes can guarantee you freedom and comfort irrespective of whether you make a small tub or a big one.
We at Huber Heights Plumbing & Drain are reputed for our professional experience in installing these awesome bathtubs. We can convert a typical bathroom to a more sophisticated one that will be the envy of all eyes for many years. Water jets, air jets, and air massage are all features that that come with a Bliss Tub.
Frequently Asked Bliss Walk-In Tub Questions
At Huber Heights Plumbing & Drain, we're dedicated to finding a solution for our customers so they can live in comfort. If you have any questions, give us a call at (937) 764-3381.
Can the Bliss Tubs walk-in tub be used as a shower?
The walk-in tubs can be used as a shower because it comes with an inbuilt stretchable hand-held showerhead that is fixed to the base of the tub. If you like, you can also change this and fix it on the wall.
How are Bliss Tubs walk-in tubs installed?
Installing a Bliss Walk-In Tub is not a hard job to do. If you hire a dependable and certified plumber to set it up, the job should be done within two days. It might interest you to note that all Bliss Tubs have both the right-hand and left-hand walk-in type. In the delivery of tubs, there are always some additional extensions that ensure that the standard bathtub space contains the walk-in tub. Also, Bliss Tubs relieves the stress of looking for a competent installer to help you as they can connect you to us, right here in your local community.
How does the watertight door work?
A Bliss Walk-In Tub comes with a watertight door that forms a hydrostatic seal when it is closed. Moreover, the water weight of the tub presses in on the door handles to make it leak-proof. If it is about the door seal, Bliss Walk-in Tubs has you covered.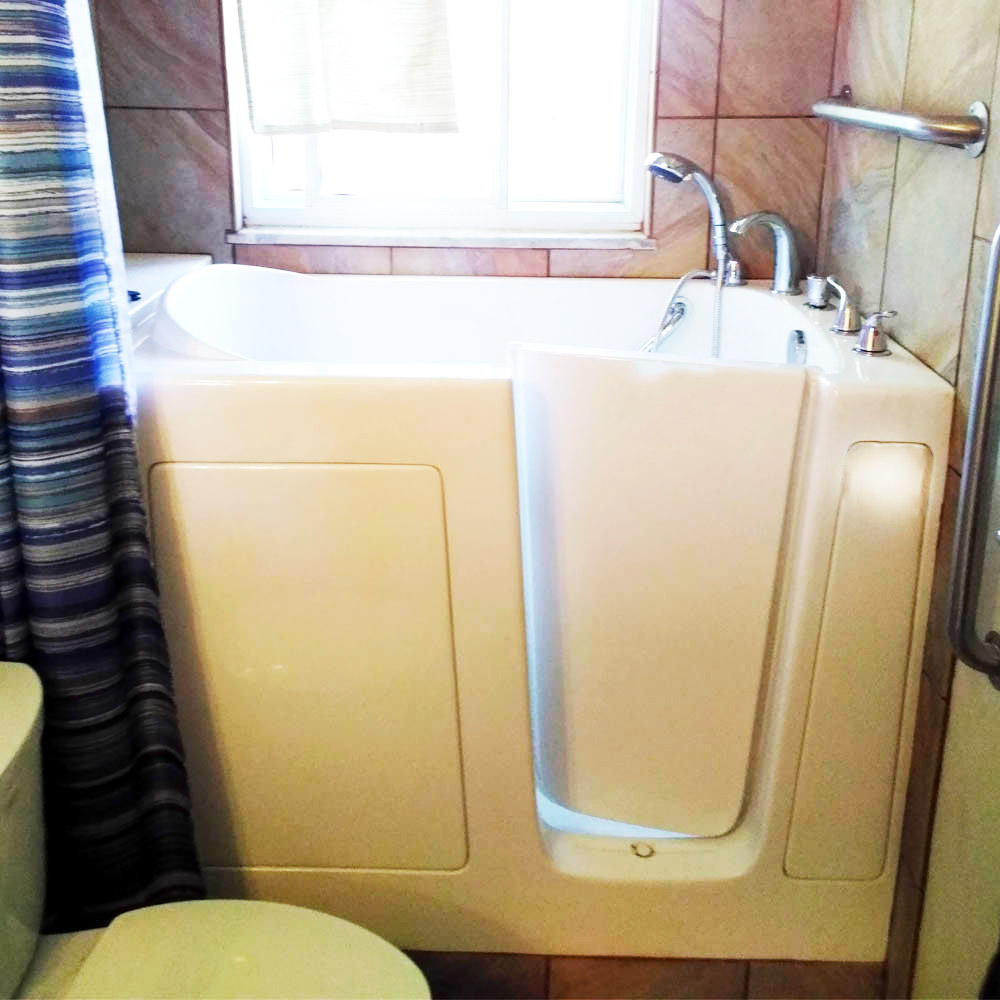 Benefits of Bliss Walk-In Tubs
Our walk-in tubs bathtub installation is priced affordably. You'll see why the Bliss name is so popular when you start using your walk-in tub. Here are some health benefits you will enjoy with a walk-in tub.
Alleviates Depression
Do you know that having a warm and friendly bath can alleviate depression? Depression is caused by a having a smaller amount of serotonin in the body. Still, researchers have proven that the brain triggers the release of serotonin as body temperature increases. Raising your temperature through exercising does not take care of depression as well as taking a warm bath does. The research was carried out in which it was discovered that people who regularly have warm baths are less likely to have depression than people exercising.
Lowers Blood Sugar
Regularly checking your blood sugar level is one of your best bets for moving toward good health because high blood sugar levels can ignite serious health concerns. Do you know that soaking yourself in a warm bathtub can reduce blood sugar levels? Some professionals affirm this by saying that a warm bath heightens the release of heat shock protein, which helps to reduce your sugar level. Another study posited that taking warm baths helps in burning fewer calories, which can help in controlling high sugar levels.
Increases Oxygen Delivery
Soaking yourself in our warm walk-in tubs can go a long way in improving oxygen delivery, coupled with the more incredible health benefits in the distribution of blood. This is because warm water can increase your heartbeat due to the pressure from the warm water, which could pave the way for easy blood distribution. Ensuring your body's blood flow is paramount to your health because your blood conveys oxygen from the lungs to different body layers. As your bloodstream flow level increases, so does your oxygen. 
Improves Joint, Muscle, and Bone Health
Our walk-in tubs provide a wide range of health benefits. Additionally, experts have also given an insight that water therapy offers help to people battling any muscle and skeletal conditions, such as paralysis. Soaking yourself in a Bliss Walk-In Tub helps loosen stiff joints and cures inflammatory pressure.  A walk-in tub is different from every other bathtub because it is designed to contain more water than the traditional bathtub. You'll be more submerged and therefore it is effective in reducing bloating.
Get a Free Plumbing Estimate in Huber Heights, OH!
Whether your drain is clogged, you have a leak, or simply need help with your sump pump or septic system, it's important to hire an experienced plumber that can do the job efficiently. As a local, family-owned and operated plumbing company, your friends at Huber Heights Plumbing & Drain are trained extensively to handle all types of plumbing emergencies and plumbing work. Our plumbers are background checked and drug tested. We send out only the best. Each and every plumber on our staff is licensed, bonded, and fully insured. This allows us to guarantee quality work and offer the highest quality plumbing products at the most competitive prices.